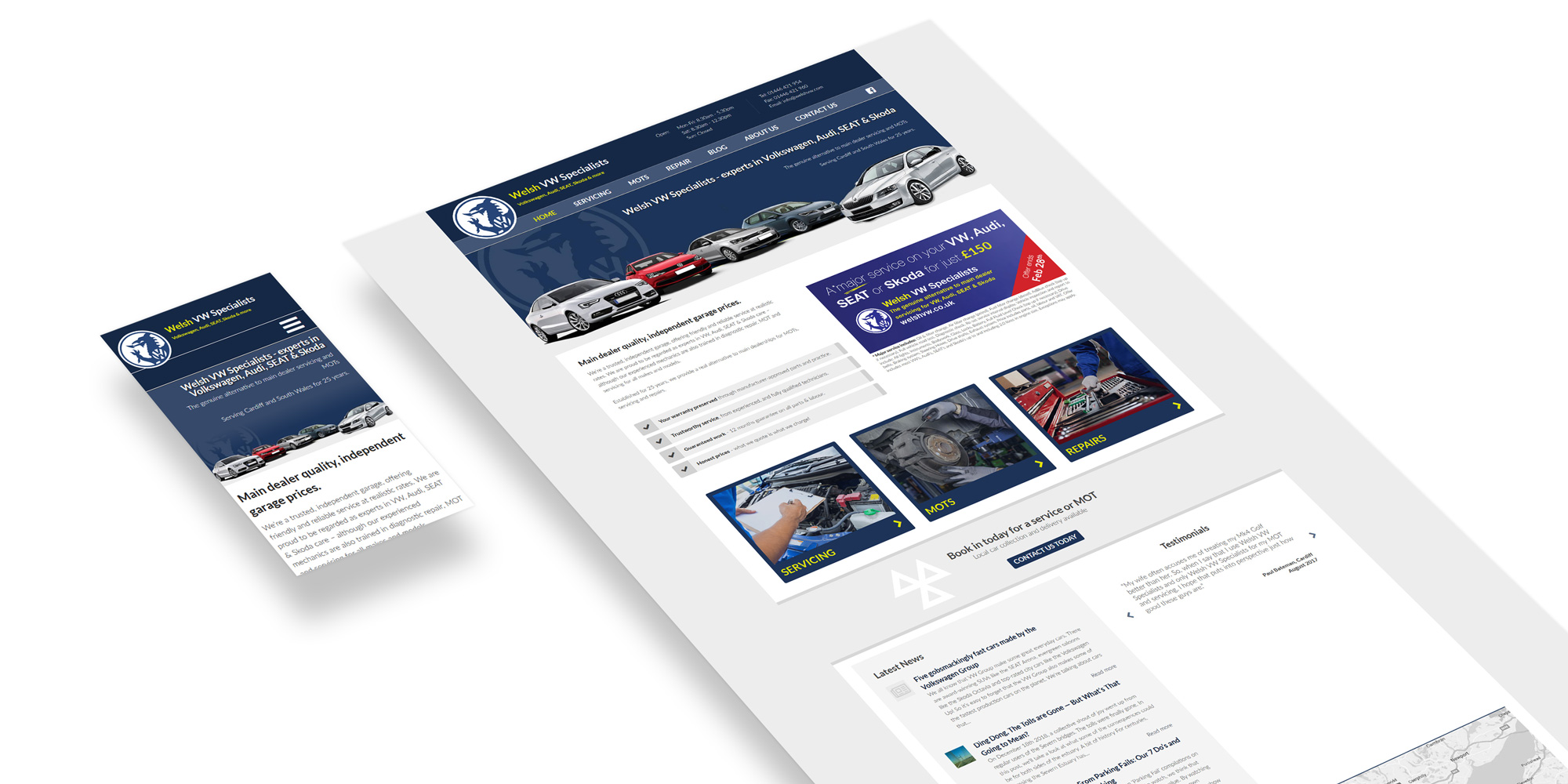 Welsh VW Specialists are an independent garage located near Barry, serving Cardiff and the whole of South Wales. As their name suggests, the garage specialises in VW group cars – Volkswagen, Audi, Skoda and Seat. However, their experienced mechanics will work with any marque. Welsh VW Specialists offer servicing, MOTs and repairs.
Our work for the company was carried out in collaboration with ad agency Make It Sticky. The garage owners realised that their existing website had become dated and did not reflect the business's selling points. Make It Sticky wrote content for the new site, bringing out several of their key strengths – for example, work done at the garage will not void any warranties, meaning that owners can experience a main dealer level of service at more realistic rates.
For our part, we produced a more attractive and modern design, incorporating the existing logo and making full use of the images supplied. These were supplemented, where required, by high quality stock images. For the colour palette, deep blues were used throughout  – this is seen as a reassuring colour that's often chosen for businesses that want to emphasise quality of service and reliability.
The existing website had built up an impressive search engine ranking for relevant key terms, and it was important that we preserved this. Working closely with Make It Sticky, we made tweaks to their copy to help maintain their SEO status. Some additional changes helped to fit the copy seamlessly into the design.
A mobile version of the site ensures that the pages display well on hand-held devices – an increasingly important factor given the proportion of people now using a phone as their primary way of accessing the internet.
We're confident that the completed design reflects what the business is all about and fulfils the brief of providing an attractive, user-friendly site. Going forward, we will be maintaining Welsh VW Specialist's site, including the management of their blog.