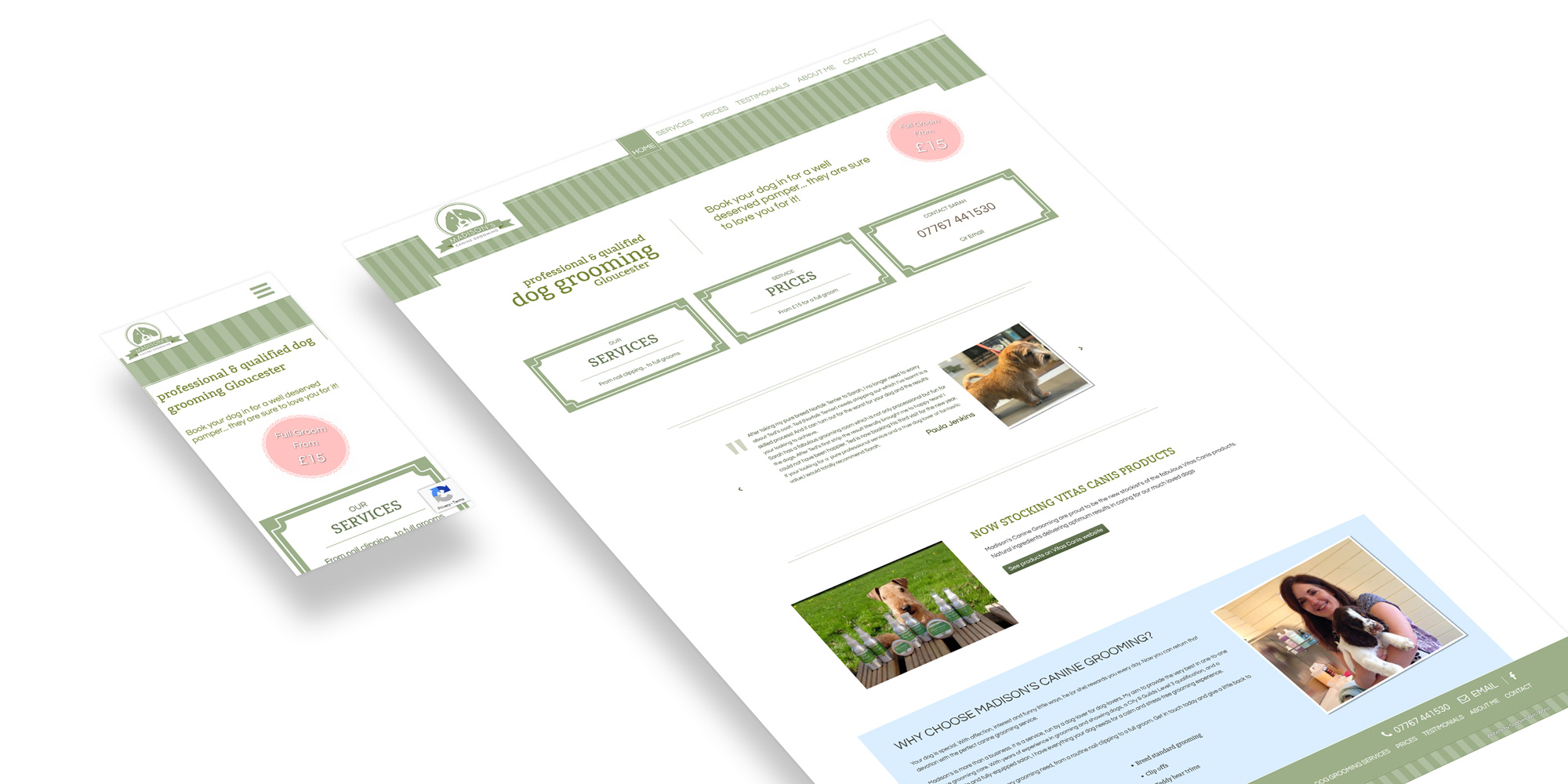 Madison's Canine Grooming is a high-quality dog grooming service that operates from a dedicated salon in Upton St Leonards, Gloucestershire. Owner Sarah Davis is passionate about her work. Experienced and fully qualified, Sarah extends and updates her knowledge through attending seminars on grooming and numerous other dog-related topics. Her range of services are extensive, and with a number of offers and loyalty discounts, clients' dogs receive a highly-rated treatment at very reasonable rates. Some of Madison's customers travel over 90 miles for grooming treatments.
As a website project, Madison's presented two main challenges. The first was tone. Dog-owners love their pets, and so its essential that anyone supplying services to them is trusted. With her love of dogs and her extensive knowledge, Sarah is certainly a 'safe pair of hands', and it was essential the website conveyed this. An impersonal tone would not have been appropriate: the text needed to carry the right balance between personal and professional, with the sense that Sarah was talking directly to the reader. Images of Sarah and her own dog Madison helped to support this feel. It was also important that potential clients could see examples of Sarah's grooming work, so before-and-after images were incorporated in galleries.
The second challenge was organisation. The website is compact, as befits a small business, but had to provide visitors with a lot of information. This included sample prices for over 40 breeds of dog, the range of discounts available, information about Madison's services and essential background on Sarah. Presenting so much text without overwhelming the website visitor can be tricky. To address this, we made use of side boxes to balance the page visually and restrict the page length. We also opted for a very clean and elegant colour scheme to reduce any additional visual distractions.
More than 50% of people now use a mobile device as their principal means of accessing the internet. This makes a mobile-friendly version of websites an attractive proposition for businesses, and as requested, we added this feature to the Madison's build.