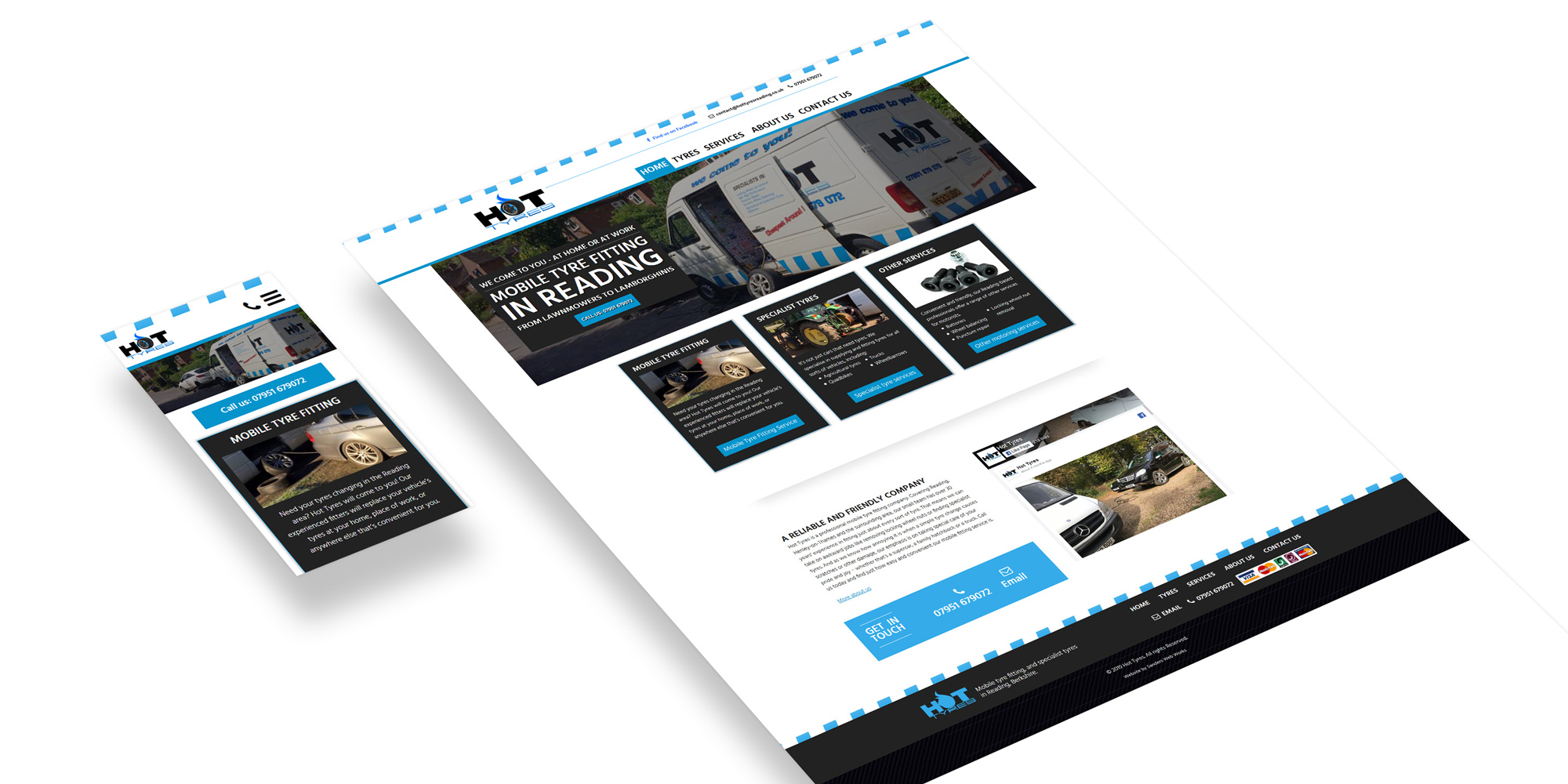 Hot Tyres is a professional mobile tyre fitting company that services Reading, Henley-on-Thames and the surrounding area. Hot Tyres not only supply car tyres, but can also supply and fit specialist tyres to a wide variety of vehicles. The company also supplies batteries, repairs punctures and offers an emergency call-out service. With 30 years combined industry experience, the fitting team is confident in tackling awkward tyre-related jobs, such as removing locking wheel nuts.
Hot Tyres' owners wanted a website to complement their social media presence and offline marketing. Going forward, their intention is to use an e-commerce system to allow customers to buy tyres online.
This was Sanders Web Works fourth mobile tyre company website, and that helped us throughout the design and build. From our earlier work, we are familiar with how the mobile tyre industry operates, the needs of business owners and the technical side of the e-commerce.
One challenge was to establish a distinct identity for the company and the site. Some website providers for mobile tyre companies use the same template for every client (with minor tweaks). This results in all the client sites looking very similar. In our Hot Tyres design, we were determined to avoid this. We therefore incorporated their existing branding into a fresh blue-and-white colour scheme. The use of images supplied by the company also helped to personalise the design.
Regarding content, we emphasised two of the company's selling points: that the fitters take great care of the customer's vehicle and that Hot Tyres can supply just about any type of specialist tyre. We also wrote persuasive text on topics such as punctures. Sites with very little content now rank very poorly with search engines, so well-written content has assumed greater significance in website design.
Once in operation, the online ordering system will allow customers to filter the list of available tyres by a number of relevant criteria. Building a bespoke system like this requires technical skill well beyond that needed for a simple website – fortunately, we have plenty of experience in the area!